🚀 🤩

#DIVERSITY

🚀 🤩

#CULTURE

🚀 🤩

#FRIENDSHIP

🚀 🤩

#CURATED

🚀 🤩

#COMMUNITY

🚀 🤩

#IRL

🚀 🤩

#DIVERSITY

🚀 🤩

#CULTURE

🚀 🤩

#FRIENDSHIP

🚀 🤩

#CURATED

🚀 🤩

#COMMUNITY

🚀 🤩

#IRL

🚀 🤩

#DIVERSITY

🚀 🤩

#CULTURE

🚀 🤩

#FRIENDSHIP

🚀 🤩

#CURATED

🚀 🤩

#COMMUNITY

🚀 🤩

#IRL

🚀 🤩

#DIVERSITY

🚀 🤩

#CULTURE

🚀 🤩

#FRIENDSHIP

🚀 🤩

#CURATED

🚀 🤩

#COMMUNITY

🚀 🤩

#IRL

🚀 🤩

#DIVERSITY

🚀 🤩

#CULTURE

🚀 🤩

#FRIENDSHIP

🚀 🤩

#CURATED

🚀 🤩

#COMMUNITY

🚀 🤩

#IRL

🚀 🤩

#DIVERSITY

🚀 🤩

#CULTURE

🚀 🤩

#FRIENDSHIP

🚀 🤩

#CURATED

🚀 🤩

#COMMUNITY

🚀 🤩

#IRL

🚀 🤩

#DIVERSITY

🚀 🤩

#CULTURE

🚀 🤩

#FRIENDSHIP

🚀 🤩

#CURATED

🚀 🤩

#COMMUNITY

🚀 🤩

#IRL

🚀 🤩

#DIVERSITY

🚀 🤩

#CULTURE

🚀 🤩

#FRIENDSHIP

🚀 🤩

#CURATED

🚀 🤩

#COMMUNITY

🚀 🤩

#IRL

🚀 🤩

#DIVERSITY

🚀 🤩

#CULTURE

🚀 🤩

#FRIENDSHIP

🚀 🤩

#CURATED

🚀 🤩

#COMMUNITY

🚀 🤩

#IRL

🚀 🤩

#DIVERSITY

🚀 🤩

#CULTURE

🚀 🤩

#FRIENDSHIP

🚀 🤩

#CURATED

🚀 🤩

#COMMUNITY

🚀 🤩

#IRL
New York tech events, New York startup events, Finance, Artificial Intelligence, Venture Capital, Art
Dinner: Investors & Founders X Art X AI
Wed, Jun 28, 10:30 PM - 01:00 AM
Secret Private Loft at Lower East Village
15 attendees
Hosted by: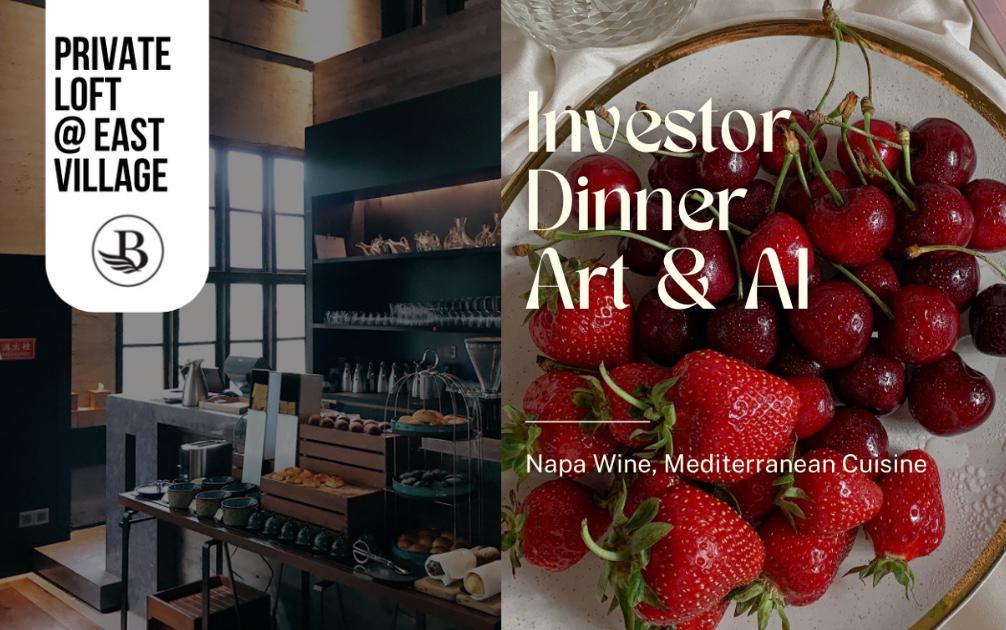 Dinner Series is an exclusive event that brings together investors, founders, AI creators, and artists in a thoughtfully curated setting, complete with dinner and party drinks. This gathering provides a unique platform for fostering informal partnerships and connections within a private loft located in Manhattan. We invite you to join us in supporting disruptive AI, innovative ideas, and high-growth trends across various industries such as games, VR/AR, architecture, payments, trading, and entertainment.
*Cocktails 6:30 PM, Dinner 7:00 PM
Here are some important details to note:
* The event is an Investors + Founders Dinner, where attendees are responsible for covering their own expenses for dinner and drinks (approximately $75 per person).
* The regular $10 Community Fee is waived exclusively for this event.
* The Dinner Series at Enhance's Loft offers not only a delightful Mediterranean cuisine inspired by Greece, Southern France, Morocco, and Southern Italy but also engaging conversations that span a wide range of topics. From AI and venture capital to Broadway and art, the discussions are diverse and inclusive. The atmosphere is casual, and the event aims to create a welcoming environment for attendees to connect and get to know one another
The dinner presents a unique opportunity to dine and interact with prominent investors who have a track record of successful investments in companies with multiple unicorn exits, particularly those associated with Y Combinator (YC). It serves as a platform for entrepreneurs and investors to network, share ideas, receive feedback, and learn from each other. The event is open to both seasoned entrepreneurs and those who are just starting out, welcoming all passionate innovators to apply. Attending the Dinner Series promises to be an unforgettable night filled with excellent food, stimulating conversations, and opportunities to accelerate business growth. However, due to limited spaces available, it is recommended to apply early to secure a spot and reach out to the organizers if there are any further questions or inquiries.
About the hosts and sponsors:
Enhance's Loft at Lower East Village, Manhattan. Enhance, a prominent New York artist, is recognized for his exceptional style in interventions that magnify the malleability of shapes, textures, and colors. His artistic approach goes beyond conventional boundaries, breathing new life into spaces and objects. Enhance has left an indelible mark through notable projects such as crafting a captivating art piece for the renowned Broome Hotel in New York City, conceptualizing an enchanting nursery for Angela Simmons, and contributing his artistic prowess to a mesmerizing music video featuring Justina Valentine alongside Fetty Wap. Furthermore, Enhance has forged creative collaborations with esteemed watch brand Swatch, infusing their timepieces with his signature artistic vision. To witness his latest endeavor, immerse yourself in the visual delight of Jozzy's music video, featuring Lil Wayne and the vibrant ambiance of Tao Group's Vandal. These exceptional ventures serve as a testament to Enhance's versatility as an artist, seamlessly bridging diverse mediums and contexts with his distinctive style. Our aim is to create an inclusive environment by involving local talents and offering selective wine tastings.
* We wholeheartedly embrace the use of AI in diverse fields, including architecture, film, games, and investments in AI technology. If you're interested in exploring portfolio opportunities, collections, or if you have any investment restrictions, please inform us so that we can cater to your specific needs.
* Whether you're traveling from London, Tokyo, Lisbon, Mars, or any other location, please let us know your preferences, preferred time slots, and any dietary restrictions or allergies you may have.
* Additionally, our gatherings extend beyond this event, as we plan breakfasts, weekends in the Hamptons, and brunches. Stay updated on future events by signing up through our selective wine tasting and involvement form. We eagerly anticipate your participation and strive to make you feel like an integral part of Manhattan's vibrant community.
Get on the list for future events: Sign up Form
https://forms.gle/zruri5GhY4EhQ3HL9
​
Investor Interest Sign up Form
https://forms.gle/9LUV5STFSbRwtXM57
Startup Application Sign up Form
https://forms.gle/vD9YxmhjyHNqHBkH7