New York tech events, New York startup events, Partnerships, Founders, Investors, Earlystage, Fundraising, Community
Founders & Funders Mixer: AI, SaaS, FinTech, HealthTech & Web3
Tue, Nov 28, 11:00 PM - 01:00 AM
A sick office space in FiDi
40 attendees
Hosted by: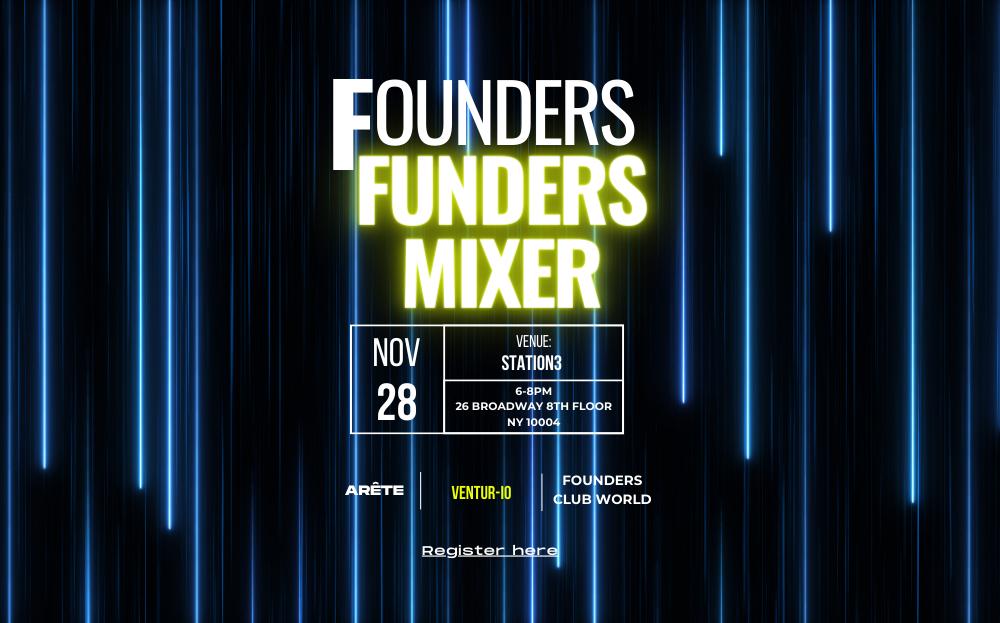 🎉 As the year winds down, we can't help but reflect on the roller-coaster ride it's been. Join us for a laid-back get-together – no formal agenda, no KPIs stress – just a night to mingle with some awesome individuals.
Who will be here
Funders:
- Angels
- Pre-Seed - Series A VCs
Founders:
- FinTech
- SaaS
- AI
- Web3
- HealthTech
📍Location
A sick office space in FiDi (exact location upon RSVP)
Your hosts
SzeYing is a seasoned tech operator dedicated to fostering connections between Asia and the US 🌎 She thrives on hosting gatherings and weaving together diverse groups of people. With the global experiences gained from her work in Singapore, China, and the US, she's all about sharing those epic tales and connecting with others 🚀 Let's chat all things Asia x US 😄
Kotryna is the founder of Arête. Arête's vision is to not only empower authenticity and inspire confidence through tech-enabled fashion but to entirely revolutionize the user experience in the fashion e-commerce sector, moving away from search-based
shopping.By
harnessing the power of AI, Arête is designing a hyper-personalized styling and shopping iOS app. We do this by catering to the unique needs of each individual user and curating outfits based on a user's location, occasion, emotion, and budget. Our AI model learns a user's body shape, complexion, and stylistic preferences, enabling it to curate the perfect outfits using (i) the clothing in a users' closet and (ii) net new items available for purchase on our platform. For these recommendations, we work with small to medium-sized brands, creating an exciting discovery process for our shoppers and connecting brands with the shoppers most excited about their products.
🌎 Founders Club World - a supportive founder community
- IRL Founders & Funders events
- IRL Female Founder events
- Online Founder Support Groups
We do yoga, Pickleball, cycling, exhibitions, dinners.. Sounds like your vibe?
👉 Join next events here:
tinyurl.com/founders-club-world
Thank you to our Sponsor!
Velvet Llama - a New York founded company that makes premium cocktails in a can. Enjoy an assortment of their cocktail flavors and listen to their founding story!