New York tech events, New York startup events, Recruiting, Internships
Eat, Drink, Network: Asia's Got TECH Talent (Come explore Asia's most talented internship pool!) *Sponsored* - Oct 11, 9-11AM
Tue, Oct 11, 01:00 PM - 03:00 PM
Secret venue near Times Square
50 attendees
Hosted by: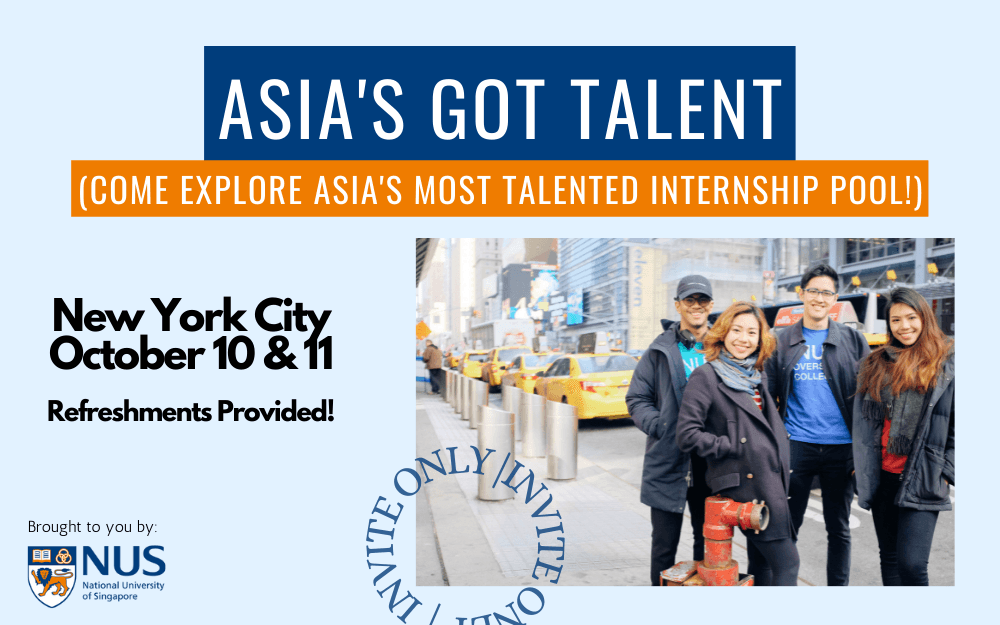 Can't hire great tech talent fast enough? Come learn about hiring tech talents from Asia's Top University* and get to meet other hiring leaders in New York City's tech start-up scene! Food and refreshments will be provided by NUS Overseas Colleges (NOC).
RSVP is required and you'll get a confirmation e-mail once approved!
*There are 3 sessions that will happen across different time slots. Please only rsvp for ONE as they are all the same events!
More about NUS Overseas Colleges (NOC):
NOC is the National University of Singapore's global entrepreneurship program (
https://enterprise.nus.edu.sg/education-programmes/nus-overseas-colleges/programmes/
) where handpicked tech talents are placed in a high-growth start-up for a 1-year full-time internship.
Since the establishment of the program in Silicon Valley in 2002, NOC continues to expand its network of start-ups, VCs and accelerators in 15 cities across US, Europe and Asia. In New York city alone, we have placed more than 120 tech talents since 2014.
*Ranked #1 in Asia with QS World University Rankings 2022 (
https://www.topuniversities.com/university-rankings/asian-university-rankings/2022
)