New York tech events, New York startup events, SGNEvent
Friendsgiving Potluck – Southeast Asian Foodies and Friends Cultural Exchange (ALL ethnicities are welcome!)
Fri, Dec 01, 11:30 PM - 01:30 AM
Invite-only Social Club in NYC
200 attendees
Hosted by: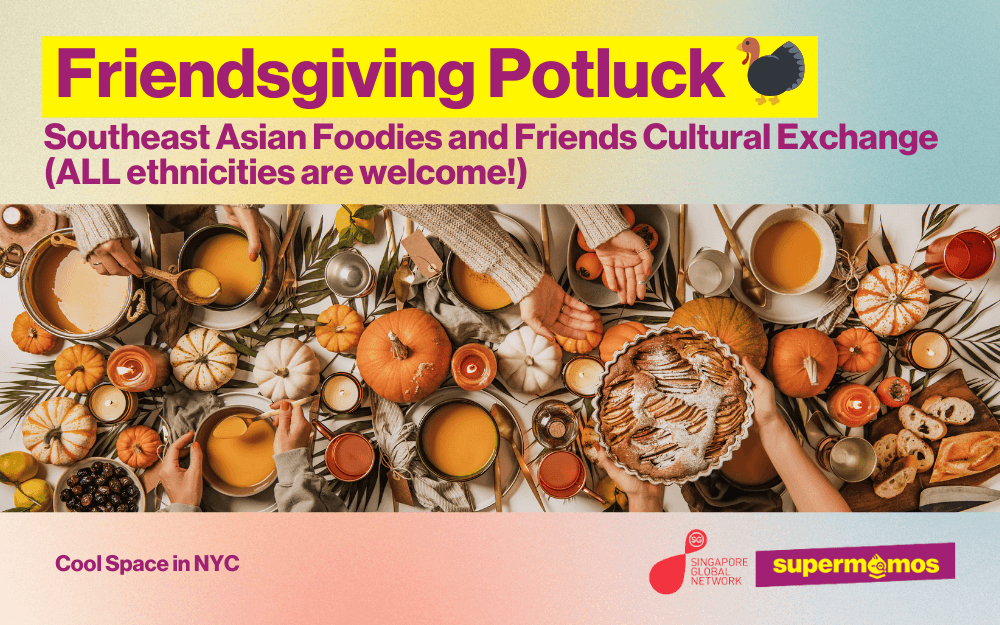 ALL ethnicities and all levels of cooking expertise are welcome!
Join us this season for an unforgettable Friendsgiving Potluck that celebrates the diverse and delicious world of Southeast Asian cuisine and more! Come along and bring a dish that speaks to your heritage or your culinary curiosity. Whether it's a family recipe that's been passed down through generations or a new dish you've mastered, we invite you to share your culinary story.
As we gather around the banquet of home-cooked wonders, you'll have the opportunity to meet new friends from around the globe. Connect over shared love for food & learn about the origins and traditions behind each dish shared by Supermomos community!
Thank you to our co-host, Singapore Global Network, for making all of this happen!
Singapore Global Network: a community also passionate about building connections and creating opportunities, and your friend from Singapore!
https://singaporeglobalnetwork.gov.sg/
Please fill out this spreadsheet with your contribution for visibility:
https://docs.google.com/spreadsheets/d/13UMYB2vGBfTprmmoy0MzcaIJeACa3kUhO3gJ522nvNI/edit