🚀 🤩

#DIVERSITY

🚀 🤩

#CULTURE

🚀 🤩

#FRIENDSHIP

🚀 🤩

#CURATED

🚀 🤩

#COMMUNITY

🚀 🤩

#IRL

🚀 🤩

#DIVERSITY

🚀 🤩

#CULTURE

🚀 🤩

#FRIENDSHIP

🚀 🤩

#CURATED

🚀 🤩

#COMMUNITY

🚀 🤩

#IRL

🚀 🤩

#DIVERSITY

🚀 🤩

#CULTURE

🚀 🤩

#FRIENDSHIP

🚀 🤩

#CURATED

🚀 🤩

#COMMUNITY

🚀 🤩

#IRL

🚀 🤩

#DIVERSITY

🚀 🤩

#CULTURE

🚀 🤩

#FRIENDSHIP

🚀 🤩

#CURATED

🚀 🤩

#COMMUNITY

🚀 🤩

#IRL

🚀 🤩

#DIVERSITY

🚀 🤩

#CULTURE

🚀 🤩

#FRIENDSHIP

🚀 🤩

#CURATED

🚀 🤩

#COMMUNITY

🚀 🤩

#IRL

🚀 🤩

#DIVERSITY

🚀 🤩

#CULTURE

🚀 🤩

#FRIENDSHIP

🚀 🤩

#CURATED

🚀 🤩

#COMMUNITY

🚀 🤩

#IRL

🚀 🤩

#DIVERSITY

🚀 🤩

#CULTURE

🚀 🤩

#FRIENDSHIP

🚀 🤩

#CURATED

🚀 🤩

#COMMUNITY

🚀 🤩

#IRL

🚀 🤩

#DIVERSITY

🚀 🤩

#CULTURE

🚀 🤩

#FRIENDSHIP

🚀 🤩

#CURATED

🚀 🤩

#COMMUNITY

🚀 🤩

#IRL

🚀 🤩

#DIVERSITY

🚀 🤩

#CULTURE

🚀 🤩

#FRIENDSHIP

🚀 🤩

#CURATED

🚀 🤩

#COMMUNITY

🚀 🤩

#IRL

🚀 🤩

#DIVERSITY

🚀 🤩

#CULTURE

🚀 🤩

#FRIENDSHIP

🚀 🤩

#CURATED

🚀 🤩

#COMMUNITY

🚀 🤩

#IRL
New York tech events, New York startup events, Investments, pitch , startup , korea, Innovation Management, pitch contest, demo day, startup pitches, businnes, bussines, Business Development
Korean Startup Showcase
Thu, Sep 21, 09:30 PM - 01:00 AM
To be shared on approval
200 attendees
Hosted by: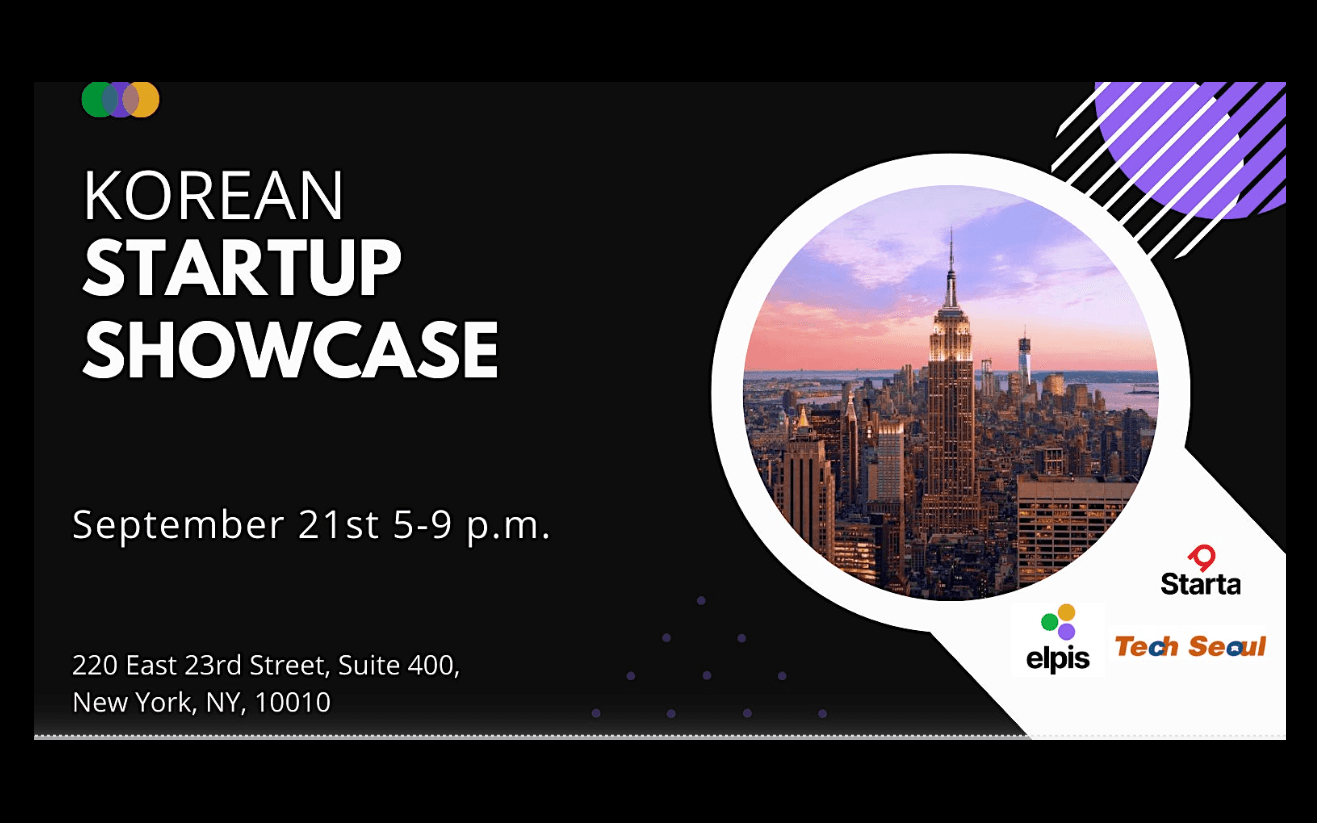 Korean Startup Showcase in New York
Join us for an exclusive event where five trailblazing Korean startups will present their innovative solutions and business models to the New York audience. Dive into the world of Korean entrepreneurship and discover the next big thing in the startup ecosystem.
Korea has long been recognized as a global powerhouse of innovation and technological advancement. From pioneering developments in the electronics and automotive industries to breakthroughs in biotech and digital solutions, Korea consistently ranks among the top nations for innovation. This event offers a unique opportunity to witness firsthand the entrepreneurial spirit and cutting-edge ideas that are shaping Korea's future and influencing the global market.
This event will feature 5 Korean startups that bring cutting-edge solutions to NYC for the first time, these companies represent a wide variety of industries with demonstrated success in their respective fields.
This event is organized by Elpis Labs in partnership with Starta vc and Tech Seoul.
Tech Seoul helps Korean startups expand and launch in the United States as well as increase their media exposure in the global market.
Elpis Labs (
https://elpislabs.com/
) develops customized startup accelerator programs and innovation challenges that empower entrepreneurs, connecting them to corporate clients and providing them with tools to compete and scale fast in the US and global markets.
Starta. vc (
https://starta.vc/
) is a New York-based venture ecosystem that includes three early-stage VC funds, a co-investment platform for angel investors, and acceleration & immersion programs for startups and scale-ups.
We are looking forward to seeing you there.
AGENDA
5:00 PM - 6:00 PM
Doors open
6:00 PM - 7:30 PM
Pitching sessions
7:30 PM - 9:00 PM
Networking & Happy hour