New York tech events, New York startup events, Engineering, Kubernetes
Kubernetes NYC Meetup
Wed, Nov 29, 11:30 PM - 01:30 AM
To be shared on approval
50 attendees
Hosted by: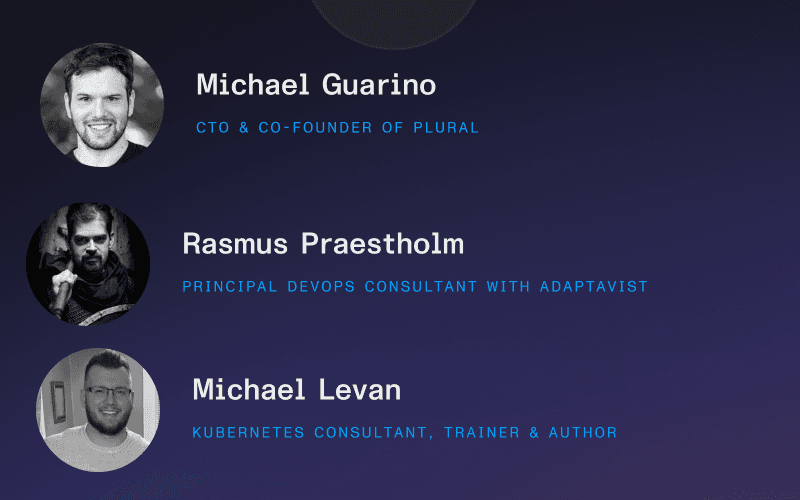 Join us Wednesday November 29 at 6:30pm EST for another NYC Kubernetes meetup. Whether you are an expert or a beginner you'll have the opportunity to learn and network from other Kubernetes enthusiasts in the NYC area.
During our event our speakers will cover:
​How to deploy your own microservices on Kubernetes
What is Platform Engineering?
​How to detect Kubernetes API deprecations
​Push vs Pull Architecture tradeoffs
​What the current Kubernetes landscape is lacking
About our speakers:
Michael Guarino is a hands-on engineer who wants to make running infrastructure at scale accessible to everyone. After playing high-impact roles on backend infrastructure teams at Amazon, Vine, Facebook, and
Frame.io
, he observed how experienced operators were able to tackle seemingly impossible tasks and wants to help bring that knowledge to the community. In creating Plural, he aimed to help extend Kubernetes to deliver the promise of a consistent standard API for the definition of infrastructure.
Rasmus Praestholm is a Principal DevOps Consultant with Adaptavist, having focused on CI/CD for years across a slew of tools, especially Jenkins since before it was Jenkins. Rasmus researches new related tooling coming out like a kid browsing a candy store, looking for balance between general purpose with easy setup to extremely scaleable systems able to handle the complexity of the upper end of today's enterprise IT. GitOps and ChatOps are particular interests. He is certified for Kubernetes, Cloudbees CI, GitLab, and so on.
Michael Levan is a seasoned engineer and consultant in the Kubernetes and Platform Engineering space who spends his time working with startups and enterprises around the globe on Kubernetes consulting, training, and content creation. He is a trainer, 3x published author, podcast host, international public speaker, CNCF Ambassador, and was part of the Kubernetes v1.28 Release Team.
​Free Agency is a game-changer for top and emerging talent in tech, providing professionals with Hollywood-style representation for the first time ever. Put simply, they manage "the business end" of their clients' careers, helping them find, win, and succeed at top-of-market roles.