🚀 🤩

#DIVERSITY

🚀 🤩

#CULTURE

🚀 🤩

#FRIENDSHIP

🚀 🤩

#CURATED

🚀 🤩

#COMMUNITY

🚀 🤩

#IRL

🚀 🤩

#DIVERSITY

🚀 🤩

#CULTURE

🚀 🤩

#FRIENDSHIP

🚀 🤩

#CURATED

🚀 🤩

#COMMUNITY

🚀 🤩

#IRL

🚀 🤩

#DIVERSITY

🚀 🤩

#CULTURE

🚀 🤩

#FRIENDSHIP

🚀 🤩

#CURATED

🚀 🤩

#COMMUNITY

🚀 🤩

#IRL

🚀 🤩

#DIVERSITY

🚀 🤩

#CULTURE

🚀 🤩

#FRIENDSHIP

🚀 🤩

#CURATED

🚀 🤩

#COMMUNITY

🚀 🤩

#IRL

🚀 🤩

#DIVERSITY

🚀 🤩

#CULTURE

🚀 🤩

#FRIENDSHIP

🚀 🤩

#CURATED

🚀 🤩

#COMMUNITY

🚀 🤩

#IRL

🚀 🤩

#DIVERSITY

🚀 🤩

#CULTURE

🚀 🤩

#FRIENDSHIP

🚀 🤩

#CURATED

🚀 🤩

#COMMUNITY

🚀 🤩

#IRL

🚀 🤩

#DIVERSITY

🚀 🤩

#CULTURE

🚀 🤩

#FRIENDSHIP

🚀 🤩

#CURATED

🚀 🤩

#COMMUNITY

🚀 🤩

#IRL

🚀 🤩

#DIVERSITY

🚀 🤩

#CULTURE

🚀 🤩

#FRIENDSHIP

🚀 🤩

#CURATED

🚀 🤩

#COMMUNITY

🚀 🤩

#IRL

🚀 🤩

#DIVERSITY

🚀 🤩

#CULTURE

🚀 🤩

#FRIENDSHIP

🚀 🤩

#CURATED

🚀 🤩

#COMMUNITY

🚀 🤩

#IRL

🚀 🤩

#DIVERSITY

🚀 🤩

#CULTURE

🚀 🤩

#FRIENDSHIP

🚀 🤩

#CURATED

🚀 🤩

#COMMUNITY

🚀 🤩

#IRL
New York tech events, New York startup events, Founder
Founder Talks: From Operators to Entrepreneurs, feat. ex-CTO, Resy and ex-VP, Head of Strategy, Foursquare (now Co-Founders of Refer) 🚀
Wed, Mar 29, 11:00 PM - 01:00 AM
Cool spot in Manhattan
75 attendees
Full
Hosted by: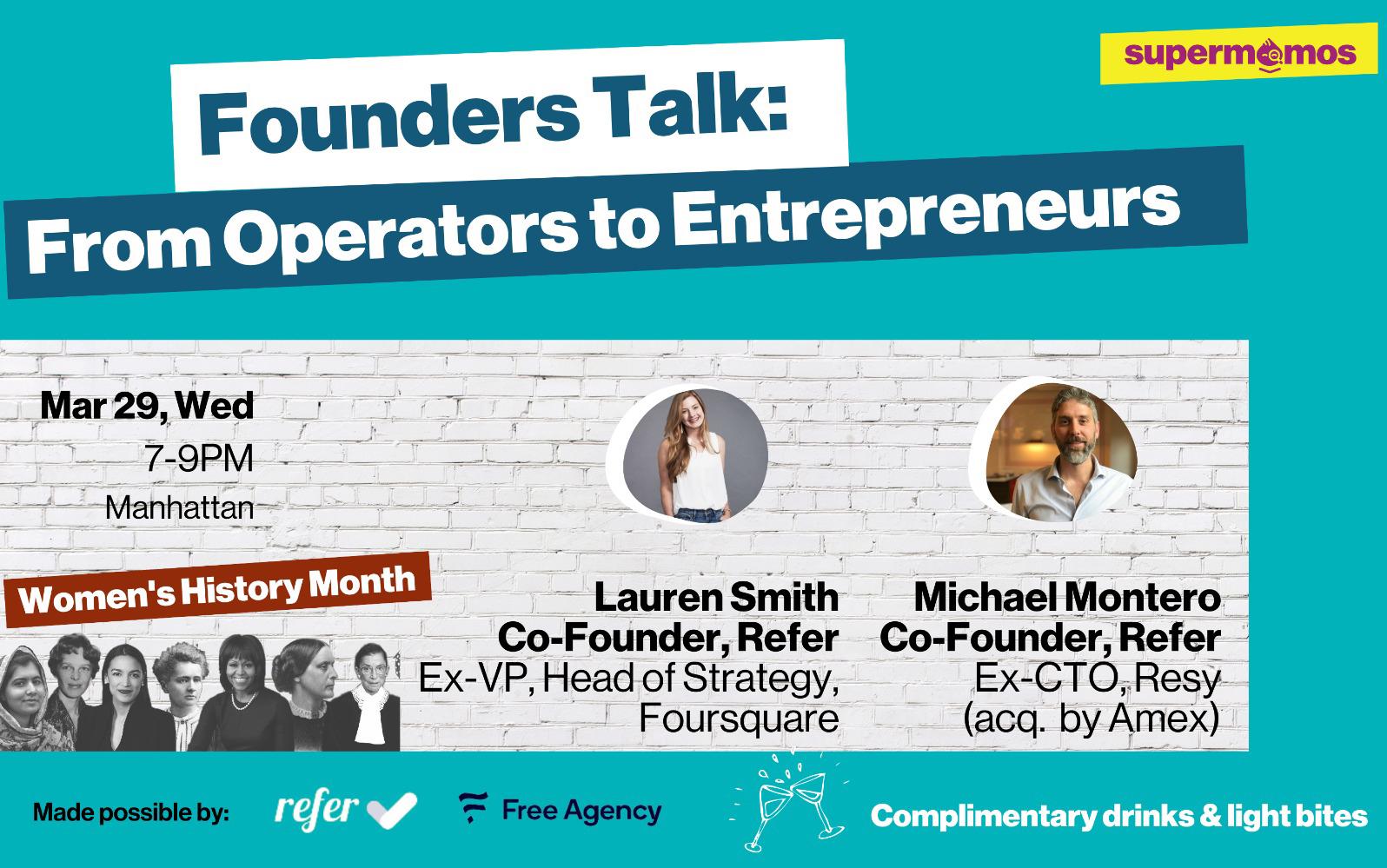 We are ending Women's History Month with a fireside chat & mixer with Co-Founders of Refer – Lauren Smith (CEO) and Michael Montero (CTO)!
They will share more about their journey from operators to founders, their passion about leveraging networks to find jobs and new hires, and also creating a diverse, inclusive, and equitable culture!
There will be a moderated fireside chat, open Q&A, and time for mingling and networking over complimentary drinks and light bites. Learn from and meet the speakers, and also make new friends with other founders, investors, hiring managers, and leaders in business and tech!
All approved attendees will need to create a free profile on
http://getreferred.co/invite
(takes 3 mins!), which will allow you to refer friends and earn money (up to thousands of dollars $$) or hire top talent (for hiring managers)!
Speaker bios:
Lauren Smith is Co-Founder & CEO of Refer. She was previously Head of Ops & Strategy at BrightHire (a series B interview intelligence platform to streamline the hiring process), and VP, Global Head of Strategy at Foursquare (a leading cloud-based location technology platform that has raised $390M to-date). She started out her career as a management consultant at Bain, and graduated from Yale University.
Michael Montero is Co-Founder & CTO of Refer. He was previously Co-Founder & CTO of Resy (top online restaurant reservations platform), which was acquired by American Express. At American Express, he became VP, Global Mobile & Web Engineering. Michael is also Founder & CTO of Struck Studio, a venture studio building the next generation of breakout technology companies.
About Refer: Refer helps companies activate and incentivize their trusted external networks to refer top tier talent, leading to faster hiring, stronger candidate pools and better retention. Refer also enables industry professionals to promote their network, helping valued connections find their next best job - and get rewarded to do so.
About Supermomos: Supermomos is a network of curated social-professional communities. Join other like-minded business, finance, and tech professionals in NYC that meet up to learn and socialize together!
About Free Agency: Free Agency is a game-changer for top and emerging talent in tech, providing professionals with Hollywood-style representation for the first time ever. Put simply, they manage "the business end" of their clients' careers, helping them find, win, and succeed at top-of-market roles.