🚀 🤩

#DIVERSITY

🚀 🤩

#CULTURE

🚀 🤩

#FRIENDSHIP

🚀 🤩

#CURATED

🚀 🤩

#COMMUNITY

🚀 🤩

#IRL

🚀 🤩

#DIVERSITY

🚀 🤩

#CULTURE

🚀 🤩

#FRIENDSHIP

🚀 🤩

#CURATED

🚀 🤩

#COMMUNITY

🚀 🤩

#IRL

🚀 🤩

#DIVERSITY

🚀 🤩

#CULTURE

🚀 🤩

#FRIENDSHIP

🚀 🤩

#CURATED

🚀 🤩

#COMMUNITY

🚀 🤩

#IRL

🚀 🤩

#DIVERSITY

🚀 🤩

#CULTURE

🚀 🤩

#FRIENDSHIP

🚀 🤩

#CURATED

🚀 🤩

#COMMUNITY

🚀 🤩

#IRL

🚀 🤩

#DIVERSITY

🚀 🤩

#CULTURE

🚀 🤩

#FRIENDSHIP

🚀 🤩

#CURATED

🚀 🤩

#COMMUNITY

🚀 🤩

#IRL

🚀 🤩

#DIVERSITY

🚀 🤩

#CULTURE

🚀 🤩

#FRIENDSHIP

🚀 🤩

#CURATED

🚀 🤩

#COMMUNITY

🚀 🤩

#IRL

🚀 🤩

#DIVERSITY

🚀 🤩

#CULTURE

🚀 🤩

#FRIENDSHIP

🚀 🤩

#CURATED

🚀 🤩

#COMMUNITY

🚀 🤩

#IRL

🚀 🤩

#DIVERSITY

🚀 🤩

#CULTURE

🚀 🤩

#FRIENDSHIP

🚀 🤩

#CURATED

🚀 🤩

#COMMUNITY

🚀 🤩

#IRL

🚀 🤩

#DIVERSITY

🚀 🤩

#CULTURE

🚀 🤩

#FRIENDSHIP

🚀 🤩

#CURATED

🚀 🤩

#COMMUNITY

🚀 🤩

#IRL

🚀 🤩

#DIVERSITY

🚀 🤩

#CULTURE

🚀 🤩

#FRIENDSHIP

🚀 🤩

#CURATED

🚀 🤩

#COMMUNITY

🚀 🤩

#IRL
New York tech events, New York startup events, Founder, Business Intelligence, femalefounders, startups, enterpreneurship, enterpreneurship
Pop Up summer series Her Workplace X Dextego
Tue, Jun 27, 10:00 PM - 12:00 AM
To be shared on approval
30 attendees
Hosted by: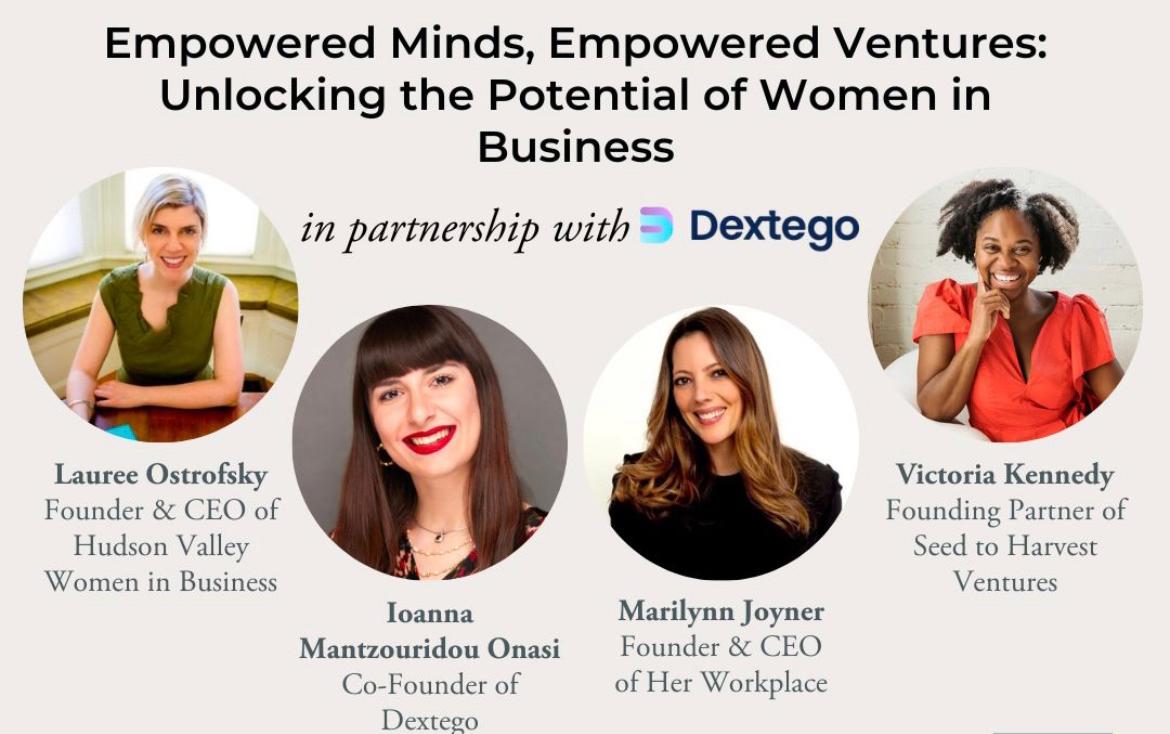 📣 Exciting Event Announcement! 🌟 Unlocking the Potential of Women in Business 💼Empowered Minds, Empowered Ventures.
📢 Attention all professionals and aspiring entrepreneurs! I am thrilled to announce an incredible event in partnership with Dextego and Her workplace by Marilynn Elise Joyner, MBA , a premier coworking space for women, where we will be diving into the world of business empowerment, specifically focusing on the amazing potential of women in the entrepreneurial landscape. 💪👩‍💼
Join us on June 27th for a dynamic and inspiring evening as we delve into the theme of unlocking the potential of women in business. I am excited to do this with Marilynn Elise Joyner, MBA, Lauree Ostrofsky, CPC, PCC and Victoria Kennedy. This event will feature thought-provoking discussions, an engaging panel, and valuable insights from industry experts, successful female founders, and renowned business leaders. 🗣️💡
Whether you are a seasoned business professional or just starting your entrepreneurial journey, this event promises to provide invaluable knowledge, networking opportunities, and inspiration to help you unlock your true potential. 🔓
Take advantage of this incredible opportunity to connect with like-minded individuals, gain insights from industry leaders, and foster a supportive community that celebrates women in business. Secure your spot today by grabbing your tickets:
Sign-up for coworking here: https://
lu.ma/hwcoworking
*When you sign-up for coworking, you will automatically be registered for the evening events. 
Sign-up for evening events here: 
https://lnkd.in/eYe2ckPD
All genders are welcome!