New York tech events, New York startup events, Social, cruise, Boating
SAR Summer Ship Soirée
Sat, Jul 15, 10:30 PM - 03:00 AM
Pier 36. 299 South St, New York, NY 10002
Hosted by: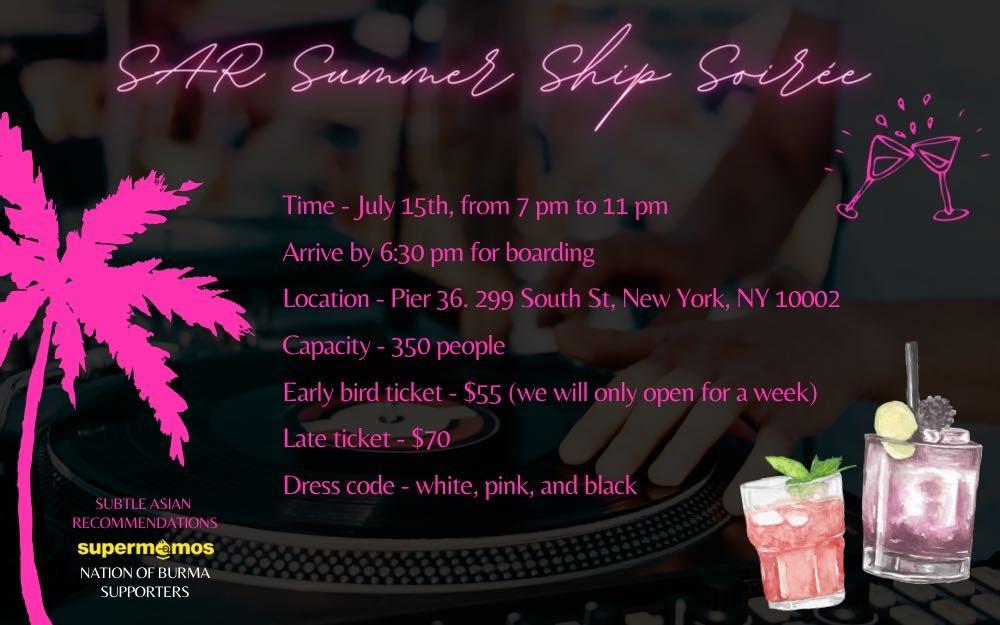 ⏰July 15th, from 7 pm to 11 pm
⏰Arrive by 6:30pm for boarding
📍Pier 36. 299 South St, New York, NY 10002
👥capacity 350 people
🎟️ Tickets $65 (Limited Time!)
👔Dress code - white, pink and black

Dear valued guests,

We are delighted to invite you to our Summer Cruise Party on July 15th, from 7 pm to 11 pm. The event will take place on a luxurious cruise ship that will take you on a breathtaking journey across the crystal-clear waters of the ocean.

We have arranged this special event to celebrate the arrival of summer, and we are expecting 350 guests to join us for an unforgettable evening of fun, food, and drinks. The ship will depart from the dock at 7 pm sharp, so we kindly ask that you arrive at least 30 minutes before the departure time to ensure a smooth and timely departure.

During the cruise, we will provide you with live music and dancing, to keep you entertained throughout the night. Not to mention drinks for purchase at the bar, and various food vendors to keep your hunger calm.

We encourage you to dress up in your best summer attire and bring your friends and family along to share this wonderful experience with you.

Please RSVP by June 30th to confirm your attendance, as spaces are limited.

We can't wait to see you aboard the ship for what promises to be an incredible night!

Warm regards,
Eric

-----------------------------------------------------------------

Disclaimer: We cannot be held liable for any incidents or accidents that may happen during your cruise with us. By purchasing a ticket, you understand and agree to the above statements and to exercise caution, follow safety guidelines, and take personal responsibility for your well-being while onboard.

Additionally, we do not allow outside food or drinks. Thank you for your cooperation in ensuring a safe and enjoyable journey for all passengers, and we look forward to seeing you on the cruise.

Refunds: Unfortunately, there are no refunds as the proceeds will go towards a non-profit organizational charity.