🚀 🤩

#DIVERSITY

🚀 🤩

#CULTURE

🚀 🤩

#FRIENDSHIP

🚀 🤩

#CURATED

🚀 🤩

#COMMUNITY

🚀 🤩

#IRL

🚀 🤩

#DIVERSITY

🚀 🤩

#CULTURE

🚀 🤩

#FRIENDSHIP

🚀 🤩

#CURATED

🚀 🤩

#COMMUNITY

🚀 🤩

#IRL

🚀 🤩

#DIVERSITY

🚀 🤩

#CULTURE

🚀 🤩

#FRIENDSHIP

🚀 🤩

#CURATED

🚀 🤩

#COMMUNITY

🚀 🤩

#IRL

🚀 🤩

#DIVERSITY

🚀 🤩

#CULTURE

🚀 🤩

#FRIENDSHIP

🚀 🤩

#CURATED

🚀 🤩

#COMMUNITY

🚀 🤩

#IRL

🚀 🤩

#DIVERSITY

🚀 🤩

#CULTURE

🚀 🤩

#FRIENDSHIP

🚀 🤩

#CURATED

🚀 🤩

#COMMUNITY

🚀 🤩

#IRL

🚀 🤩

#DIVERSITY

🚀 🤩

#CULTURE

🚀 🤩

#FRIENDSHIP

🚀 🤩

#CURATED

🚀 🤩

#COMMUNITY

🚀 🤩

#IRL

🚀 🤩

#DIVERSITY

🚀 🤩

#CULTURE

🚀 🤩

#FRIENDSHIP

🚀 🤩

#CURATED

🚀 🤩

#COMMUNITY

🚀 🤩

#IRL

🚀 🤩

#DIVERSITY

🚀 🤩

#CULTURE

🚀 🤩

#FRIENDSHIP

🚀 🤩

#CURATED

🚀 🤩

#COMMUNITY

🚀 🤩

#IRL

🚀 🤩

#DIVERSITY

🚀 🤩

#CULTURE

🚀 🤩

#FRIENDSHIP

🚀 🤩

#CURATED

🚀 🤩

#COMMUNITY

🚀 🤩

#IRL

🚀 🤩

#DIVERSITY

🚀 🤩

#CULTURE

🚀 🤩

#FRIENDSHIP

🚀 🤩

#CURATED

🚀 🤩

#COMMUNITY

🚀 🤩

#IRL
New York tech events, New York startup events, Product, D2C, Founder
Sip, Share, & Shop with Love, Bonito's Power Women!
Fri, Jun 16, 10:00 PM - 12:00 AM
Manhattan
100 attendees
Full
Hosted by: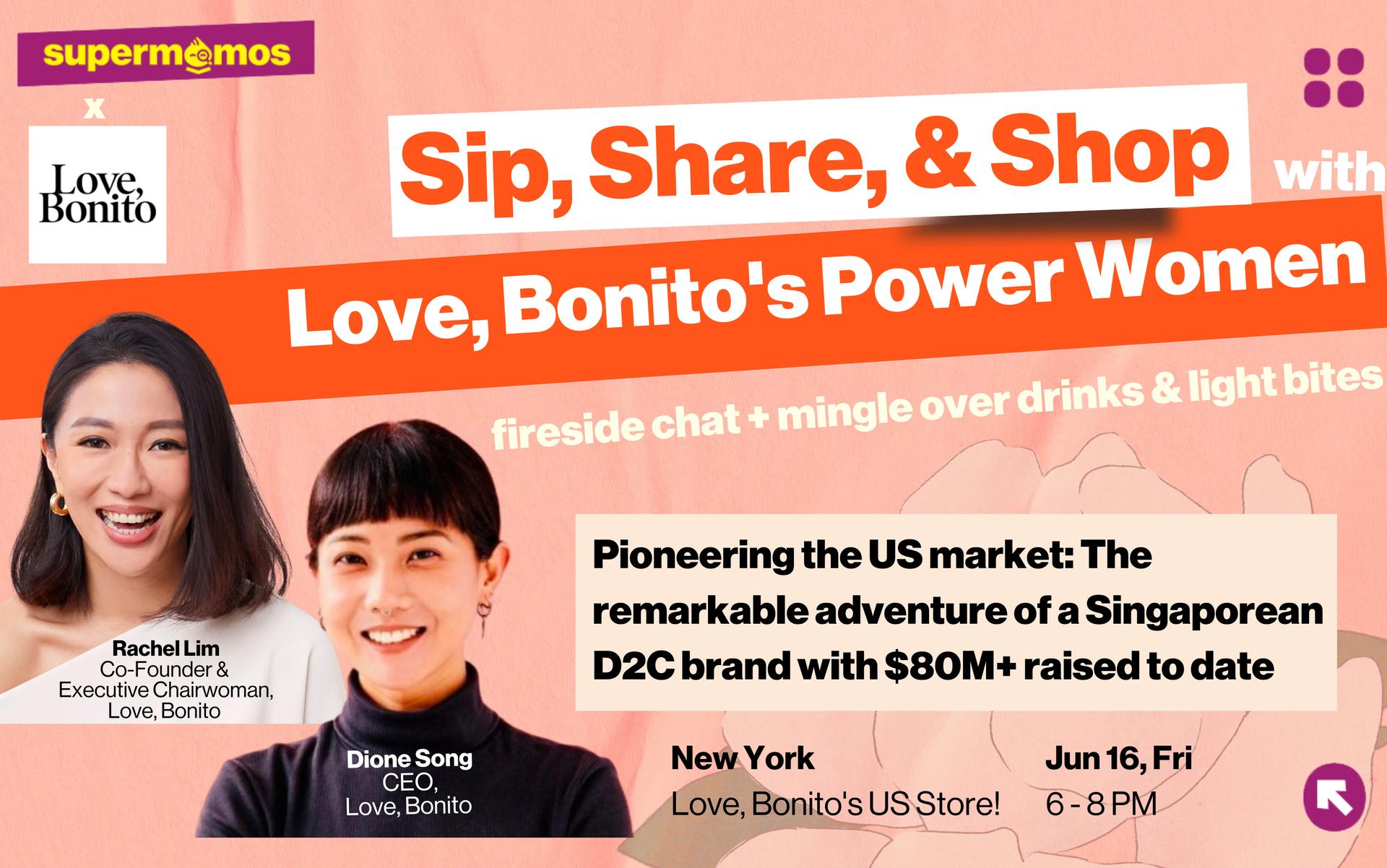 Join us for an exclusive evening with Rachel Lim, Co-Founder and Executive Chairwoman, along with Dione Song, CEO of Love, Bonito (a leading Asian D2C fashion brand that has raised $80M to date) on June 16th, one day after the grand unveiling of their first US store!

This fireside chat will offer an up-close look at Love, Bonito's incredible evolution - from its Singaporean roots to its current US expansion. Tailored for Asian women and fueled by a mission to empower, Love, Bonito stands as a testament to women's strength. Engage in a dynamic Q&A, network with NYC's business, tech, and finance professionals, and seize the chance to mingle with Rachel, Dione, and other powerhouse women behind Love, Bonito!

There will be complimentary drinks and light bites available, so be sure to arrive early to make the most of it!