🚀 🤩

#DIVERSITY

🚀 🤩

#CULTURE

🚀 🤩

#FRIENDSHIP

🚀 🤩

#CURATED

🚀 🤩

#COMMUNITY

🚀 🤩

#IRL

🚀 🤩

#DIVERSITY

🚀 🤩

#CULTURE

🚀 🤩

#FRIENDSHIP

🚀 🤩

#CURATED

🚀 🤩

#COMMUNITY

🚀 🤩

#IRL

🚀 🤩

#DIVERSITY

🚀 🤩

#CULTURE

🚀 🤩

#FRIENDSHIP

🚀 🤩

#CURATED

🚀 🤩

#COMMUNITY

🚀 🤩

#IRL

🚀 🤩

#DIVERSITY

🚀 🤩

#CULTURE

🚀 🤩

#FRIENDSHIP

🚀 🤩

#CURATED

🚀 🤩

#COMMUNITY

🚀 🤩

#IRL

🚀 🤩

#DIVERSITY

🚀 🤩

#CULTURE

🚀 🤩

#FRIENDSHIP

🚀 🤩

#CURATED

🚀 🤩

#COMMUNITY

🚀 🤩

#IRL

🚀 🤩

#DIVERSITY

🚀 🤩

#CULTURE

🚀 🤩

#FRIENDSHIP

🚀 🤩

#CURATED

🚀 🤩

#COMMUNITY

🚀 🤩

#IRL

🚀 🤩

#DIVERSITY

🚀 🤩

#CULTURE

🚀 🤩

#FRIENDSHIP

🚀 🤩

#CURATED

🚀 🤩

#COMMUNITY

🚀 🤩

#IRL

🚀 🤩

#DIVERSITY

🚀 🤩

#CULTURE

🚀 🤩

#FRIENDSHIP

🚀 🤩

#CURATED

🚀 🤩

#COMMUNITY

🚀 🤩

#IRL

🚀 🤩

#DIVERSITY

🚀 🤩

#CULTURE

🚀 🤩

#FRIENDSHIP

🚀 🤩

#CURATED

🚀 🤩

#COMMUNITY

🚀 🤩

#IRL

🚀 🤩

#DIVERSITY

🚀 🤩

#CULTURE

🚀 🤩

#FRIENDSHIP

🚀 🤩

#CURATED

🚀 🤩

#COMMUNITY

🚀 🤩

#IRL
New York tech events, New York startup events, Founder, Product, Engineering, Design, Finance, Strategy, Business Operations, Investor, Data Science, Business Intelligence, Legal, Public Policy, Project Management, Business Integrity / Trust & Safety, People & HR, Finance & Accounting, Operations, Community, Customer Success, Account Management, General Manager, C-Level, Partnerships, Cooking, Storytelling
Skip the small talk Storytelling Event
Mon, Sep 18, 11:00 PM - 01:00 AM
To be shared on approval
20 attendees
Hosted by: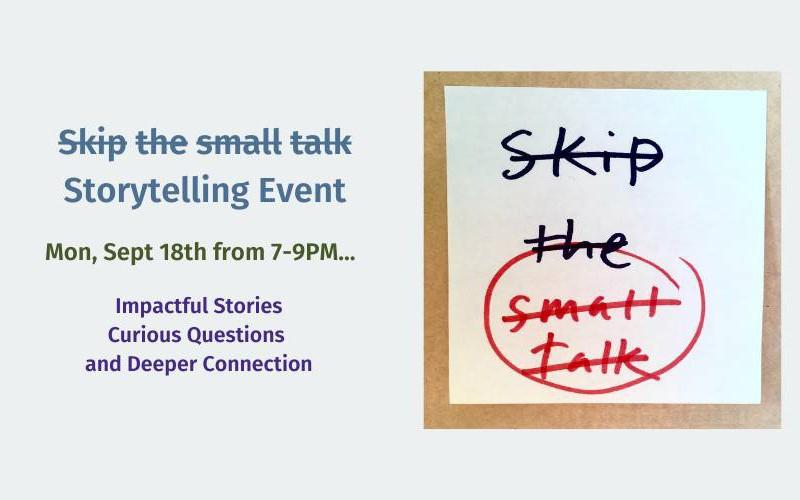 Bring your curiosity and indulge your story-loving soul with us on Monday evening :)

— Are telling impactful stories a skill you'd like to strengthen?

— Do you love listening to a good story and lessons learned?

— Do you enjoy hearing from different perspectives, backgrounds, and experiences?

— Do you prefer to skip the small talk and connect with others in deeper and more meaningful ways?
Sound like a good time? Join us :)
Monday [September 18th] from 7-9PM at The Yard in Williamsburg.

7:00 Doors Open
7:30 Stories Begin
8:30 Connect with Others
9:00 Goodnight!

Join us to share and engage with Impactful Stories, offer your Curious Questions, and find Deeper Connection.

See you Monday?