🚀 🤩

#DIVERSITY

🚀 🤩

#CULTURE

🚀 🤩

#FRIENDSHIP

🚀 🤩

#CURATED

🚀 🤩

#COMMUNITY

🚀 🤩

#IRL

🚀 🤩

#DIVERSITY

🚀 🤩

#CULTURE

🚀 🤩

#FRIENDSHIP

🚀 🤩

#CURATED

🚀 🤩

#COMMUNITY

🚀 🤩

#IRL

🚀 🤩

#DIVERSITY

🚀 🤩

#CULTURE

🚀 🤩

#FRIENDSHIP

🚀 🤩

#CURATED

🚀 🤩

#COMMUNITY

🚀 🤩

#IRL

🚀 🤩

#DIVERSITY

🚀 🤩

#CULTURE

🚀 🤩

#FRIENDSHIP

🚀 🤩

#CURATED

🚀 🤩

#COMMUNITY

🚀 🤩

#IRL

🚀 🤩

#DIVERSITY

🚀 🤩

#CULTURE

🚀 🤩

#FRIENDSHIP

🚀 🤩

#CURATED

🚀 🤩

#COMMUNITY

🚀 🤩

#IRL

🚀 🤩

#DIVERSITY

🚀 🤩

#CULTURE

🚀 🤩

#FRIENDSHIP

🚀 🤩

#CURATED

🚀 🤩

#COMMUNITY

🚀 🤩

#IRL

🚀 🤩

#DIVERSITY

🚀 🤩

#CULTURE

🚀 🤩

#FRIENDSHIP

🚀 🤩

#CURATED

🚀 🤩

#COMMUNITY

🚀 🤩

#IRL

🚀 🤩

#DIVERSITY

🚀 🤩

#CULTURE

🚀 🤩

#FRIENDSHIP

🚀 🤩

#CURATED

🚀 🤩

#COMMUNITY

🚀 🤩

#IRL

🚀 🤩

#DIVERSITY

🚀 🤩

#CULTURE

🚀 🤩

#FRIENDSHIP

🚀 🤩

#CURATED

🚀 🤩

#COMMUNITY

🚀 🤩

#IRL

🚀 🤩

#DIVERSITY

🚀 🤩

#CULTURE

🚀 🤩

#FRIENDSHIP

🚀 🤩

#CURATED

🚀 🤩

#COMMUNITY

🚀 🤩

#IRL
New York tech events, New York startup events, AI ML, Data Science, Conference
Super AI ML Summit - co-hosted with Two Sigma Ventures: Apply Here! (Passes start at $450)
Fri, Jul 14, 01:00 PM - 10:00 PM
Marriott Marquis Times Square NYC
20 attendees
Hosted by: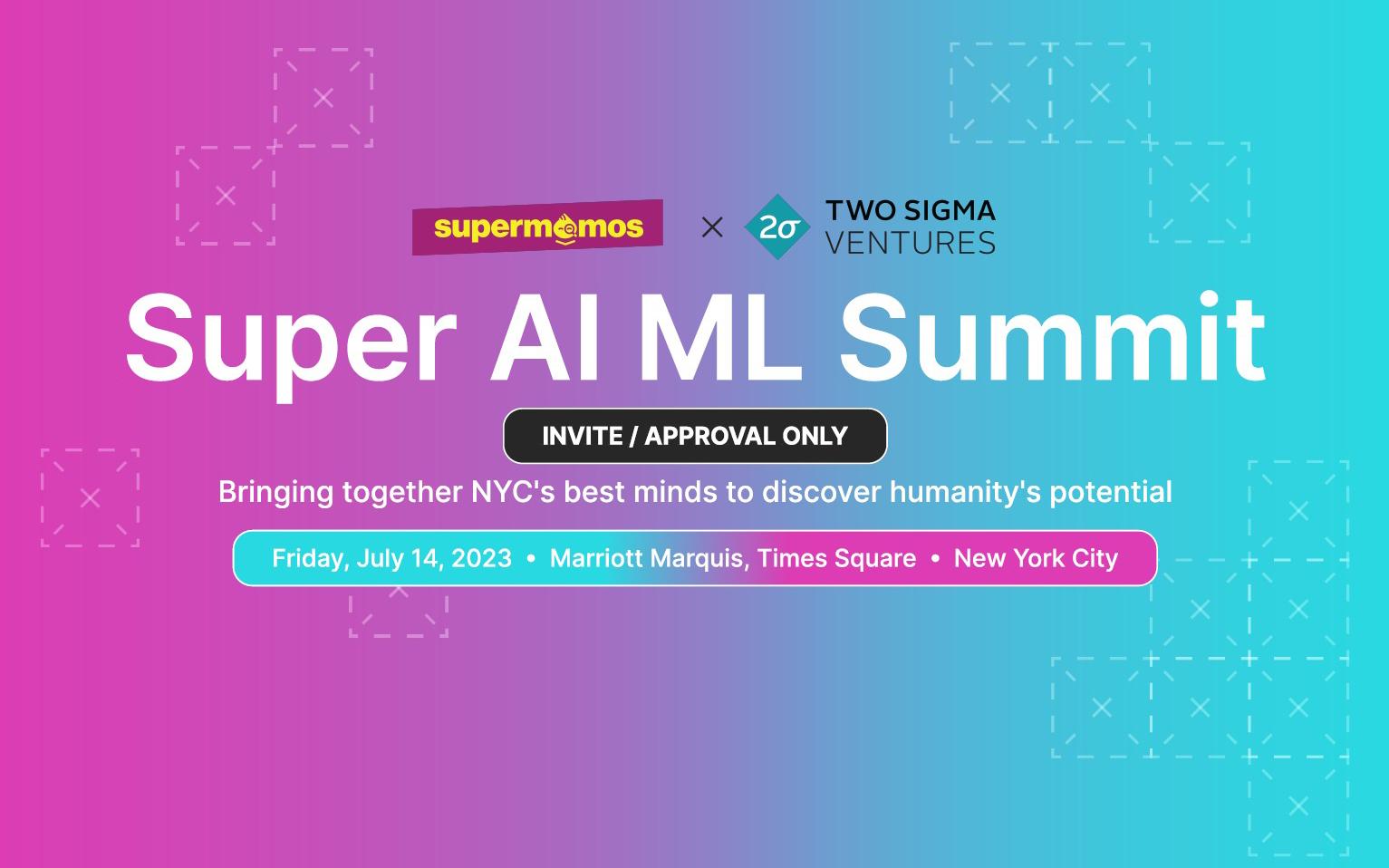 We are hosting the invite & approval-only Super AI ML Summit in NYC on July 14 at the Marriott Marquis:
https://summit.supermomos.com/
Rsvp to apply to attend / sponsor / speak! (0 momos required to apply) Passes start at $450.
This event is co-hosted by Supermomos and Two Sigma Ventures.
The summit would be a full-day conference from 9am to 6pm, including panels, networking lunch, coffee, happy hour, and a speakers dinner afterwards.
We are planning to have 150-300 of the best minds in AI/ML in NYC, across different functions and sectors (founders, investors, operators at big tech and high-growth startups, Fortune 500 innovators).
Some speakers that we have confirmed so far include (
https://summit.supermomos.com/speakers
):
• Managing Director, Insight Partners ($90B AUM fund) – named by Business Insider as Top 19 AI/ML Investor
• Founder/Chairman & CEO of FiscalNote - NYSE-listed AI market intelligence company ($100M+ annual revenue)
• New founder: Recent Managing Director, Goldman Sachs-turned-founder
• New founder: Recent Director at Meta AI, previously Director Data & ML at Amazon Web Services-turned-founder
• Chief AI Officer, IBM Healthcare & Life Sciences
• Head of ML Engineering & Analytics, S&P Global Market Intelligence
• Head of Data, Moet Hennessy
• Head of Data, Point72 & New York Mets
• Executive Director, Goldman Sachs, Natural Language Processing Group
• CMO, AI Healthcare Unicorn
and more
It would be a great opportunity for networking, hiring, partnerships, business development, and knowledge exchange, and for you to be in front of some of the top executives & industry leaders working in the AI ML data sector.