🚀 🤩

#DIVERSITY

🚀 🤩

#CULTURE

🚀 🤩

#FRIENDSHIP

🚀 🤩

#CURATED

🚀 🤩

#COMMUNITY

🚀 🤩

#IRL

🚀 🤩

#DIVERSITY

🚀 🤩

#CULTURE

🚀 🤩

#FRIENDSHIP

🚀 🤩

#CURATED

🚀 🤩

#COMMUNITY

🚀 🤩

#IRL

🚀 🤩

#DIVERSITY

🚀 🤩

#CULTURE

🚀 🤩

#FRIENDSHIP

🚀 🤩

#CURATED

🚀 🤩

#COMMUNITY

🚀 🤩

#IRL

🚀 🤩

#DIVERSITY

🚀 🤩

#CULTURE

🚀 🤩

#FRIENDSHIP

🚀 🤩

#CURATED

🚀 🤩

#COMMUNITY

🚀 🤩

#IRL

🚀 🤩

#DIVERSITY

🚀 🤩

#CULTURE

🚀 🤩

#FRIENDSHIP

🚀 🤩

#CURATED

🚀 🤩

#COMMUNITY

🚀 🤩

#IRL

🚀 🤩

#DIVERSITY

🚀 🤩

#CULTURE

🚀 🤩

#FRIENDSHIP

🚀 🤩

#CURATED

🚀 🤩

#COMMUNITY

🚀 🤩

#IRL

🚀 🤩

#DIVERSITY

🚀 🤩

#CULTURE

🚀 🤩

#FRIENDSHIP

🚀 🤩

#CURATED

🚀 🤩

#COMMUNITY

🚀 🤩

#IRL

🚀 🤩

#DIVERSITY

🚀 🤩

#CULTURE

🚀 🤩

#FRIENDSHIP

🚀 🤩

#CURATED

🚀 🤩

#COMMUNITY

🚀 🤩

#IRL

🚀 🤩

#DIVERSITY

🚀 🤩

#CULTURE

🚀 🤩

#FRIENDSHIP

🚀 🤩

#CURATED

🚀 🤩

#COMMUNITY

🚀 🤩

#IRL

🚀 🤩

#DIVERSITY

🚀 🤩

#CULTURE

🚀 🤩

#FRIENDSHIP

🚀 🤩

#CURATED

🚀 🤩

#COMMUNITY

🚀 🤩

#IRL
New York tech events, New York startup events, Sales & BD, Product, Marketing, Superdiverse, Founder
SuperBrands Fair: Engage with mystery consumer brands through immersive booths, sample tastings, and lightning fireside chats 💞
Thu, Mar 30, 11:00 PM - 01:00 AM
Secret Venue in Manhattan
100 attendees
Full
Hosted by: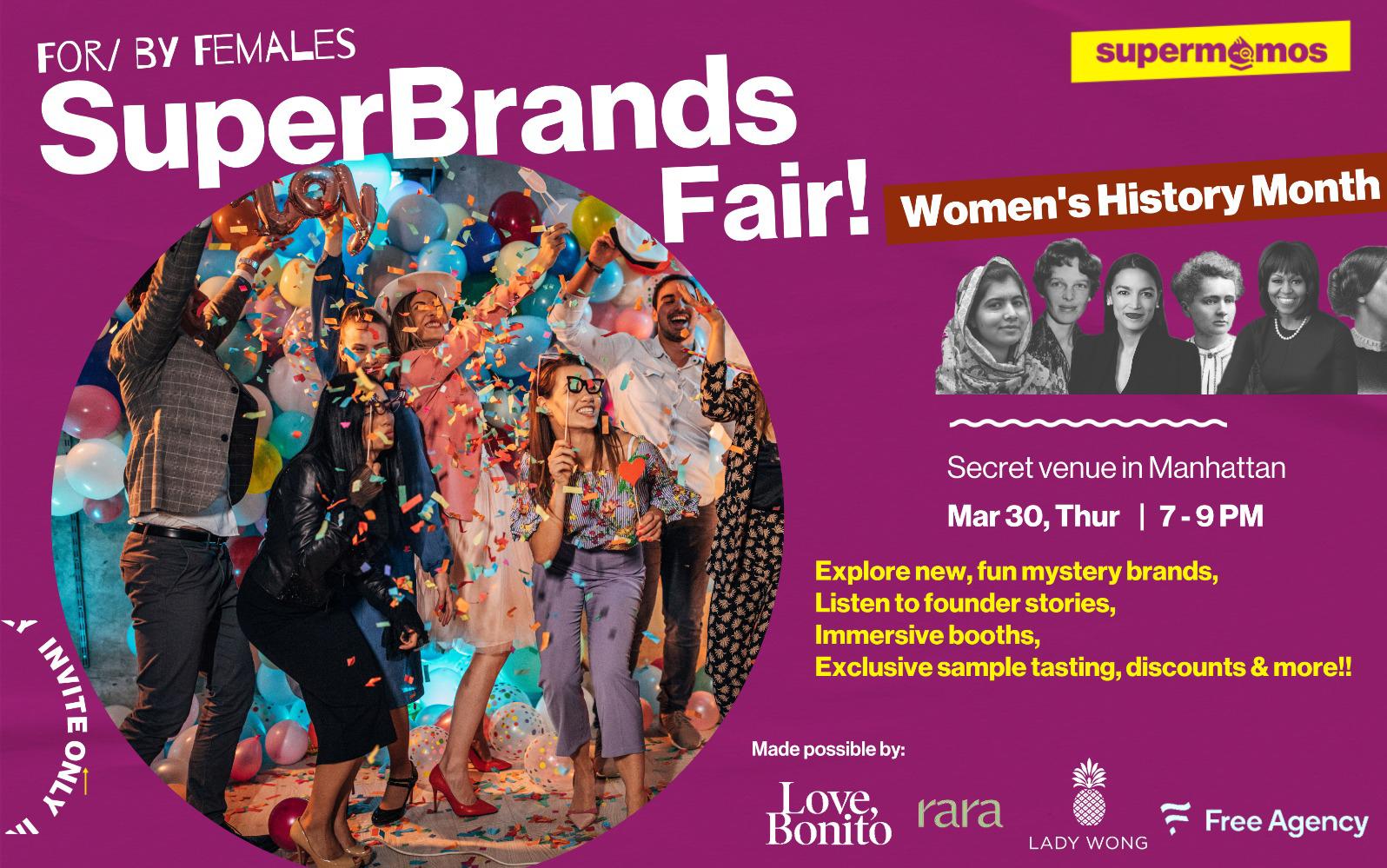 Join us as we close out Women's History Month with a bang at the SuperBrands Fair - the ultimate celebration of female-led consumer brands! Get ready to immerse yourself in a world of creativity, innovation, and inspiration!

Our lineup of 3-5 exceptional brands will take to the stage for lightning fireside chats. You'll hear straight from the creators about their journey to success, including their stories, inspiration behind the incredible products, and how the various consumer products are made - from sourcing all the way to reaching the end consumer's hands. You'll also have the chance to engage in a group Q&A session with all the company leaders, so don't be shy to ask those burning questions!

But the fun doesn't stop there! Throughout the event, you can make your way to check out immersive booths set up by each brand, offering you the chance to sample products, ask questions, and get up close and personal with some seriously cool stuff.

Plus, you'll also be surrounded by a community of equally ambitious and innovative women (and allies :)) who share a passion for female-led impact. It's the perfect opportunity to make new friends, connect with likeminded individuals, and celebrate the amazing things that women can accomplish.

Don't miss out on this fantastic chance to explore and discover the very best in consumer brands at the SuperBrands Fair!