🚀 🤩

#DIVERSITY

🚀 🤩

#CULTURE

🚀 🤩

#FRIENDSHIP

🚀 🤩

#CURATED

🚀 🤩

#COMMUNITY

🚀 🤩

#IRL

🚀 🤩

#DIVERSITY

🚀 🤩

#CULTURE

🚀 🤩

#FRIENDSHIP

🚀 🤩

#CURATED

🚀 🤩

#COMMUNITY

🚀 🤩

#IRL

🚀 🤩

#DIVERSITY

🚀 🤩

#CULTURE

🚀 🤩

#FRIENDSHIP

🚀 🤩

#CURATED

🚀 🤩

#COMMUNITY

🚀 🤩

#IRL

🚀 🤩

#DIVERSITY

🚀 🤩

#CULTURE

🚀 🤩

#FRIENDSHIP

🚀 🤩

#CURATED

🚀 🤩

#COMMUNITY

🚀 🤩

#IRL

🚀 🤩

#DIVERSITY

🚀 🤩

#CULTURE

🚀 🤩

#FRIENDSHIP

🚀 🤩

#CURATED

🚀 🤩

#COMMUNITY

🚀 🤩

#IRL

🚀 🤩

#DIVERSITY

🚀 🤩

#CULTURE

🚀 🤩

#FRIENDSHIP

🚀 🤩

#CURATED

🚀 🤩

#COMMUNITY

🚀 🤩

#IRL

🚀 🤩

#DIVERSITY

🚀 🤩

#CULTURE

🚀 🤩

#FRIENDSHIP

🚀 🤩

#CURATED

🚀 🤩

#COMMUNITY

🚀 🤩

#IRL

🚀 🤩

#DIVERSITY

🚀 🤩

#CULTURE

🚀 🤩

#FRIENDSHIP

🚀 🤩

#CURATED

🚀 🤩

#COMMUNITY

🚀 🤩

#IRL

🚀 🤩

#DIVERSITY

🚀 🤩

#CULTURE

🚀 🤩

#FRIENDSHIP

🚀 🤩

#CURATED

🚀 🤩

#COMMUNITY

🚀 🤩

#IRL

🚀 🤩

#DIVERSITY

🚀 🤩

#CULTURE

🚀 🤩

#FRIENDSHIP

🚀 🤩

#CURATED

🚀 🤩

#COMMUNITY

🚀 🤩

#IRL
New York tech events, New York startup events, Marketing
SuperMarketing: Marketing Secrets in the Age of AI/ML
Tue, Oct 03, 10:30 PM - 12:30 AM
Cool space in Manhattan
75 attendees
Hosted by: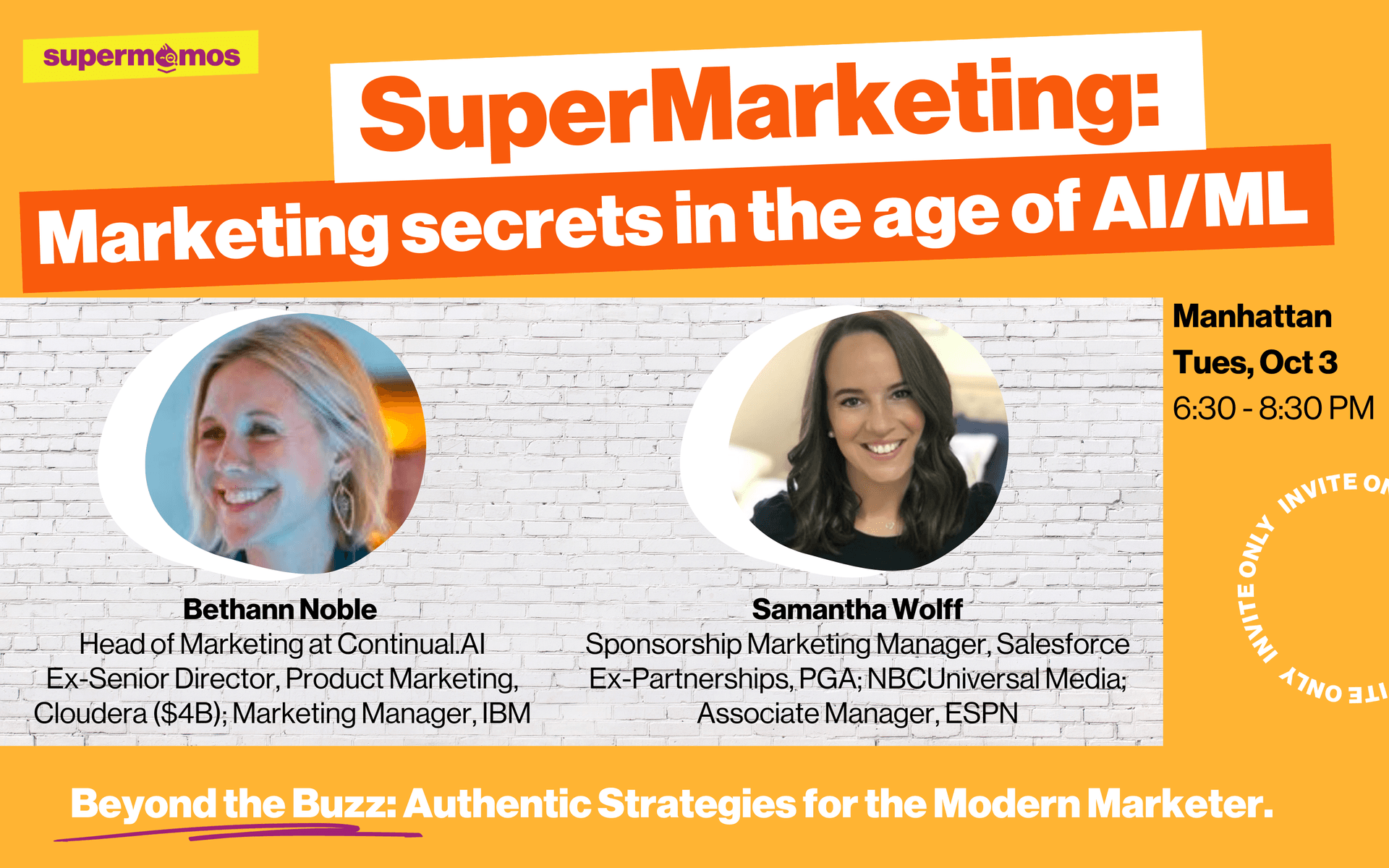 Attention marketers, tech enthusiasts, and AI/ML aficionados! Dive into the latest strategies and secrets of marketing in today's AI/ML-dominated landscape with SuperMarketing.

Join us as we spotlight Bethann Noble, Head of Marketing at Continual and ex-Marketing Manager at IBM. With a unique blend of a software engineering background, STEM education, and over a decade in directing AI/ML and cybersecurity marketing, Bethann brings a rare confluence of technical knowledge and marketing mastery to the table.

We're also excited to feature Samantha Wolff, Sponsorship Marketing Manager at Salesforce. Samantha's career journey spans from Partnerships roles at PGA and NBCUniversal Media to being an Associate Manager at ESPN, infusing the discussion with a rich spectrum of industry insights.

Anticipate:

- Unique insights from the crossroads of tech and marketing
- Strategies that champion both agility and empathy
- Robust networking opportunities with industry peers and leaders


Spots for this SuperMarketing session are filling up fast, so don't miss out!