🚀 🤩

#DIVERSITY

🚀 🤩

#CULTURE

🚀 🤩

#FRIENDSHIP

🚀 🤩

#CURATED

🚀 🤩

#COMMUNITY

🚀 🤩

#IRL

🚀 🤩

#DIVERSITY

🚀 🤩

#CULTURE

🚀 🤩

#FRIENDSHIP

🚀 🤩

#CURATED

🚀 🤩

#COMMUNITY

🚀 🤩

#IRL

🚀 🤩

#DIVERSITY

🚀 🤩

#CULTURE

🚀 🤩

#FRIENDSHIP

🚀 🤩

#CURATED

🚀 🤩

#COMMUNITY

🚀 🤩

#IRL

🚀 🤩

#DIVERSITY

🚀 🤩

#CULTURE

🚀 🤩

#FRIENDSHIP

🚀 🤩

#CURATED

🚀 🤩

#COMMUNITY

🚀 🤩

#IRL

🚀 🤩

#DIVERSITY

🚀 🤩

#CULTURE

🚀 🤩

#FRIENDSHIP

🚀 🤩

#CURATED

🚀 🤩

#COMMUNITY

🚀 🤩

#IRL

🚀 🤩

#DIVERSITY

🚀 🤩

#CULTURE

🚀 🤩

#FRIENDSHIP

🚀 🤩

#CURATED

🚀 🤩

#COMMUNITY

🚀 🤩

#IRL

🚀 🤩

#DIVERSITY

🚀 🤩

#CULTURE

🚀 🤩

#FRIENDSHIP

🚀 🤩

#CURATED

🚀 🤩

#COMMUNITY

🚀 🤩

#IRL

🚀 🤩

#DIVERSITY

🚀 🤩

#CULTURE

🚀 🤩

#FRIENDSHIP

🚀 🤩

#CURATED

🚀 🤩

#COMMUNITY

🚀 🤩

#IRL

🚀 🤩

#DIVERSITY

🚀 🤩

#CULTURE

🚀 🤩

#FRIENDSHIP

🚀 🤩

#CURATED

🚀 🤩

#COMMUNITY

🚀 🤩

#IRL

🚀 🤩

#DIVERSITY

🚀 🤩

#CULTURE

🚀 🤩

#FRIENDSHIP

🚀 🤩

#CURATED

🚀 🤩

#COMMUNITY

🚀 🤩

#IRL
New York tech events, New York startup events, Sustainability, Fashion, clothing swap, networking, sustainable fashion
Sustainable Fashion:Clothing Swap & Panel Discussion
Sat, Sep 30, 08:00 PM - 12:00 AM
Flatiron district
100 attendees
Hosted by: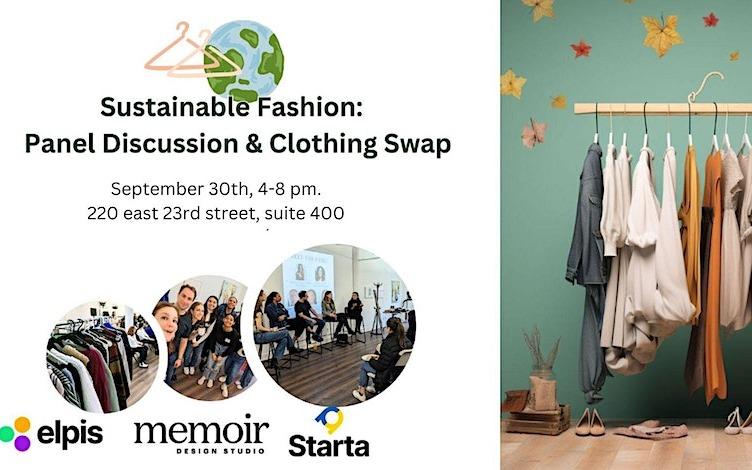 Discover new ways to integrate sustainability into your wardrobe. Join us for a conversation with industry trensetters and activists (more information on the panel below)
How does the swap work?
Bring clothes, shoes, handbags, and other accessories that you're looking to swap Please ensure that your items are clean and intact (e.g., not torn). You can bring female & male clothes!
Check in with your items at our welcome desk. You will be given a swap ticket for each item you brought. There's a limit of 20 items per person.
Check out with your new pieces! If you have any leftover tickets you can use them for our next swap (Spring 2024)
You can bring items anytime between 4pm-8pm.
Where do the leftover items go?
We work with our partners to either donate the items or make sure they are properly recycled.
AGENDA
4 PM - Doors open! Clothes drop off and swap.
5- 6 PM Panel Discussion & chat - new ways to integrate sustainability into your wardrobe. Join us for a conversation with industry trensetters and activists (more information on the panel below)
(please note, swapping will be paused untill the end of the panel, but you can still drop off stuff off )
6-8 PM - Swap, swap, swap!
PANEL DISCUSSION - SPEAKERS & MODERATOR
Madison PM Cline is a sustainability specialist, designer, and founder of Memoir Design Studio. With over a decade of experience in the apparel and accessories industry, including a position at Coach & Gina Group, Madison is dedicated to promoting sustainable and social impact solutions. As a ReMake Ambassador and Co-Community Manager for Fashion Revolution, she is passionate about fostering change in the fashion world through creativity and storytelling. Madison's strategic thinking and collaborative approach make her a driving force in transforming the industry towards a more sustainable future.
Tessa Maffucci, Pratt Institute
Tessa Maffucci is a teacher, researcher and organizer advocating for ethical fashion economies. She teaches fashion history and theory focusing on the intersections of fashion and labor, with an emphasis on sustainability, technology and material culture. She coordinates the New York Fashion Workforce Development Coalition (NYFWDC), an advocacy collaborative of New York's fashion community, including many manufacturers and designers in the Garment District. Tessa is a recipient of the Made in NYC Fellowship and an editor for The Fashion Studies Journal.
Diego Gonzales Pino is a seasoned professional in the fashion industry, specializing in product development and production management. With a career spanning over several years, Diego has worked with renowned fashion brands and has a proven track record of excellence in various roles. Diego is currently leading efforts at Coachtopia, a groundbreaking initiative within Coach. Coachtopia is a collaborative lab for innovation, founded with the mission to accelerate the transition towards a circular economy in fashion. The initiative focuses on rapidly prototyping new products, processes, and ideas, reimagining waste as a valuable raw material.
Gabrielle N. Belli is a multi-faceted professional with over a decade of experience in international affairs and seven years in communications and digital strategy. Currently based in Brooklyn, New York, Gabrielle serves as a Researcher, Policy Analyst, and Digital Strategist, focusing on impactful research and creative problem-solving. She aims to incorporate eco-friendly and ethical practices into the fashion industry through her research and policy work. In 2020, she channeled her passion for sustainability by launching her own vintage store. Gabrielle is dedicated to promoting sustainable solutions in fashion and advocates for ethical sourcing and responsible production.
Anastasia Lykova Elpis Labs & Starta VC
Anastasia Lykova serves as the Founder of
ElpisLabs.com
and a Partner at Starta VCWith a decade of experience in venture capital, her expertise lies in the strategic development and scaling of early-stage startups, particularly those originating from international markets. Committed to sustainable innovation, Anastasia actively seeks to integrate environmentally responsible technologies and practices into the investment portfolio. Her mission extends to facilitating meaningful connections between startups, founders, and corporate entities committed to sustainability.