New York tech events, New York startup events, Venture Capital, Female Founders, Female Investors
Tech Female Founders Fireside Chat & Mixer - feat. Susannah Shipton (Partner at AlleyCorp)
Thu, Sep 28, 01:00 PM - 03:00 PM
Cool space in Manhattan
50 attendees
Full
Hosted by: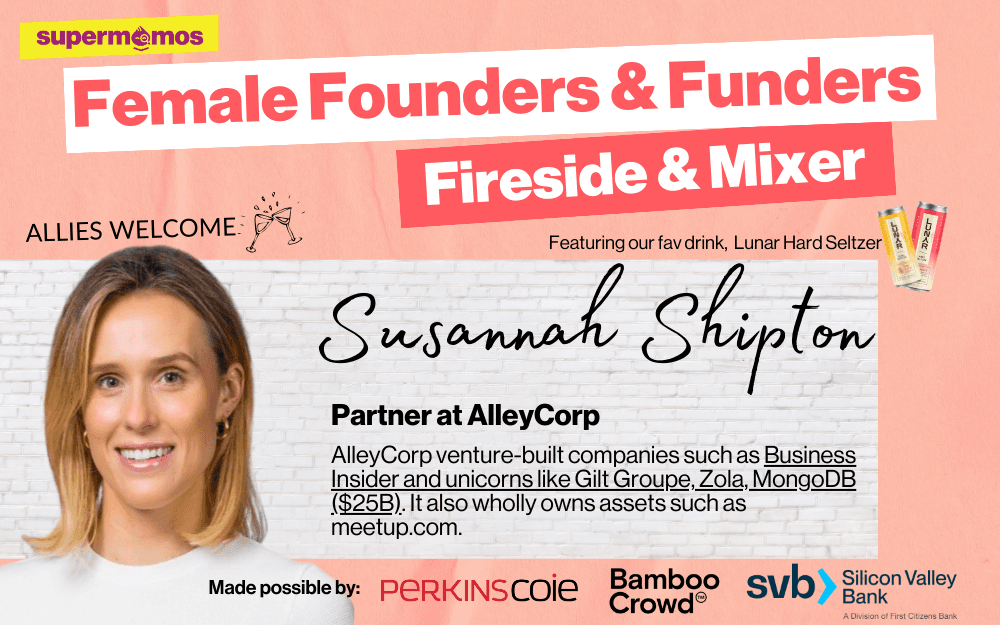 Invite & Approval: Founders & VCs only. Few spots on the waitlist.
Come join us to make new connections, exchange ideas, and gain valuable insights from Susannah Shipton, Partner at AlleyCorp, during an intimate fireside chat (see her bio below)!
Susannah Shipton is a Partner at AlleyCorp, the venture fund and incubator behind companies such as MongoDB ($25B database co), Zola (wedding planning unicorn), Business Insider, Nomad Health, Gilt Groupe, and many others. She makes investments across consumer and enterprise, with a special focus on eCommerce, marketplaces, and consumer-facing software and products. Besides her investment work, Susannah is deeply involved with AlleyCorp's incubations and early portfolio companies, actively supporting them from their initial stages. Before her tenure at AlleyCorp, Susannah was Director of Strategy & Operations at Artsy, where she was a vital part of the leadership team for five years, navigating the company from Series A through Series E.
This event is made possible by our patrons, Perkins Coie, Bamboo Crowd, and Silicon Valley Bank. There will also be delicious Lunar Hard Seltzer!
Perkins Coie is an international law firm that represents emerging and growth companies across all stages of their life cycle – from founder to IPO.
Bamboo Crowd helps Founders to accelerate bold ideas by building a strong foundation with the best talent in product, engineering, design, sales & marketing. They have supported over 500 companies and placed over 4000 world-class people into seed to D startups and corporate ventures. If you're a Founder or Hiring Manager looking for Talent, Bamboo Crowd is built on a flexible fee structure and payment model not seen before in traditional hiring – contact them today to find out more. Email:
allyssa@bamboocrowd.com
Silicon Valley Bank (SVB), a division of First Citizens Bank, is the bank of some of the world's most innovative companies and investors. SVB provides commercial and private banking to individuals and companies in the technology, life science and healthcare, private equity, venture capital and premium wine industries. SVB operates in centers of innovation throughout the United States, serving the unique needs of its dynamic clients with deep sector expertise, insights and connections. SVB's parent company, First Citizens BancShares, Inc. (NASDAQ: FCNCA ), is a top 20 U.S. financial institution with more than $200 billion in assets. First-Citizens Bank & Trust Company, Member FDIC. Learn more at
svb.com