New York tech events, New York startup events, FAANG
🥂The FAANG++ Holiday Gala, brought to you by Supermomos
Wed, Dec 06, 12:00 AM - 02:00 AM
Cool space in Manhattan
1250 attendees
Full
Hosted by: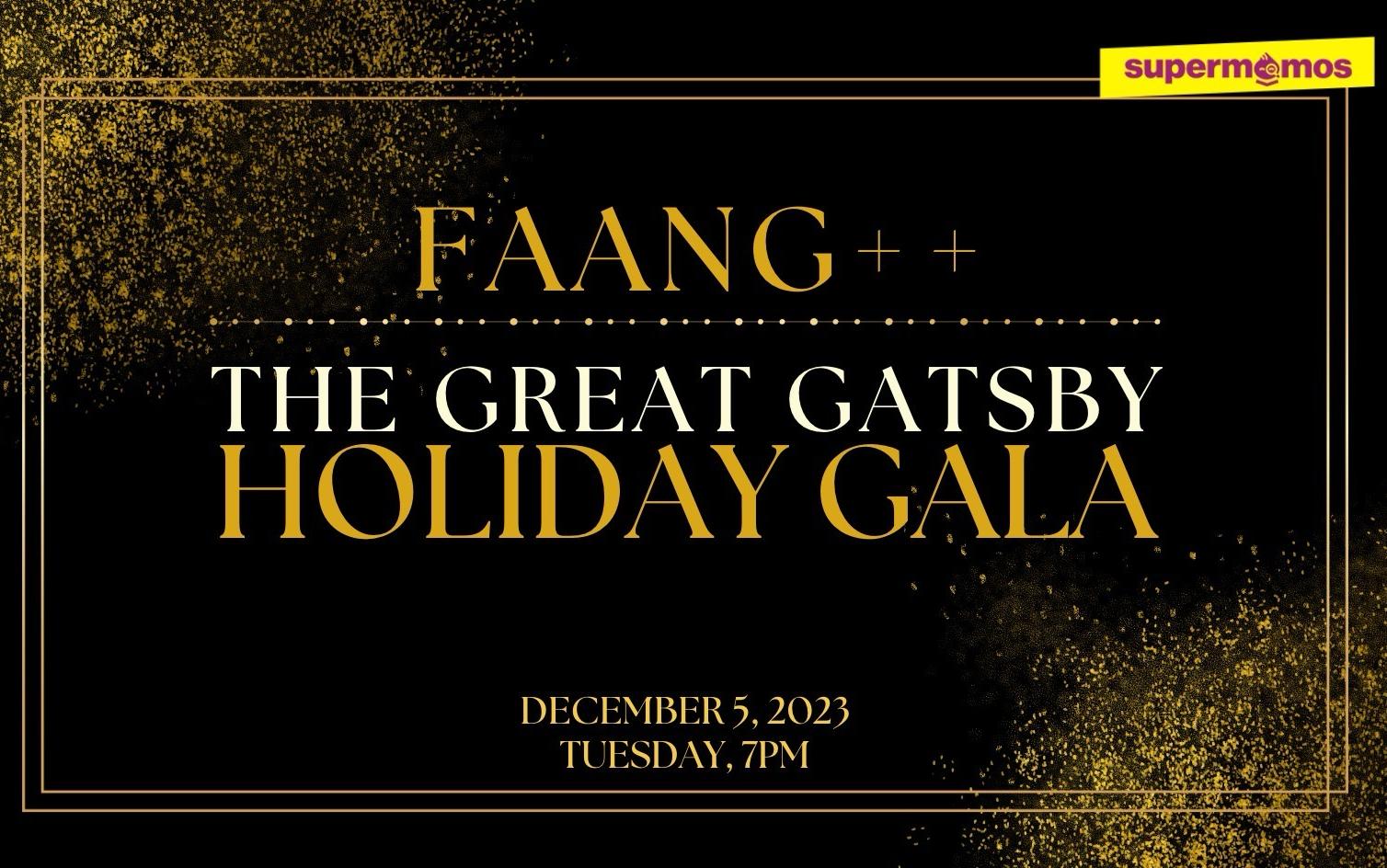 When Supermomos takes over an entire hotel, you know it's not just another party. As the year concludes, be part of the biggest FAANG++ party in NYC. We have over 1,000 sign-ups, and here's a look at how the top 5 companies are represented: Amazon: 200, Google: 150, Microsoft: 125, Meta: 75, LinkedIn: 75. Plus other attendees from Bloomberg, IBM, TikTok, NBA, Major League Baseball, and more!
Expect:
Epic DJs & music in one space. Chill vibes conducive to talking in another. Exciting lucky draws. A fun photo booth. Raffles and prizes for the best-dressed ones.
FAANG++ unite, bringing the Great Gatsby Era to life.
Rise to the challenge in our group best-dressed contest. There will be lots of great raffle prizes for the winners! (see list below) We will also facilitate inter-company mingling.
One night. One unparalleled experience. Before the city sleeps for the holidays, let's set the night ablaze.
December 5th. Save the date.
Supermomos is NYC's premier platform for connecting with professional communities in technology, business, and finance. We're dedicated to bringing people together in real life to foster meaningful connections and knowledge exchange, all while facilitating the participation of female and underrepresented minority groups.
Stay up to date with other similar tech, business, and finance events in NYC through our weekly NYC events newsletter here:
https://magic.beehiiv.com/v1/feb6bfdf-6c1f-4a19-a1a4-92fa2e59fd98
Note: Job recruiting is not allowed at this event. Only networking and friend-making :)
Level 1: The Main Hall
• Check-in: Grab your wristband indicating your relationship status (single/taken/complicated) and "task cards" to begin your adventure!
• Game Lounges: At the back, find our game lounge with charades, Jenga, and more! Games restart at 7:30PM, 8:00PM, and 8:30PM
• Co-founder Connections & Startup Spitballing: Want to build a startup? Looking to find a co-founder? Come meet likeminded friends and team Antler - a pre-seed VC backing founders from day zero to find co-founders, test ideas, and rapidly launch startups!
Level 2: Up to the Conversation Roof
• Authentic conversation under the Stars: Partnering with Love, Bonito, we've created an "Authentic conversation under the Stars" zone. Engage in deep talks, make lasting friendships, and redeem gifts if you complete your fun task!
• Singles-Only Section: In collaboration with Coffee Meets Bagel, we've got a space exclusively for singles. It's all about fun and connections here, with conversation cards like "Would you rather never have to work again or never have to sleep again?" 😂 Come check it out!
Level 0 - Down to the Dance Party
Get down to the beats of our resident DJ, a Product Manager at JP Morgan by day and DJ by night, spinning your favorite hits from the 2010s!
List of prizes:
• The Great Gatsby Yave Cocktails (our Tequila brand for the night!)
• $100 Set Dinner for 2 Guests (2 Entrees+2 Cocktails +2 Desserts) at The Dean
• 3 months free coffee + 20% off pastries and beans at Blank Street Coffee
• 5 months of free Lunar Hard Seltzer
• One week of bespoke meal deliveries right to your doorstep (breakfast, lunch, and dinner) by Square Fare
• $100 worth of dinning vouchers at Rasa
• Cheese & Charcuterie Grazing Board for 20 people from Happy Boards
• One bottle of Bubbly at Flute Champagne bar
• 1 Olive skin care set and 1 olive oil set from Kosterina
• 200 cupcake mixes from Renewal Mill
We will also have exit door gifts for everyone from For Days!